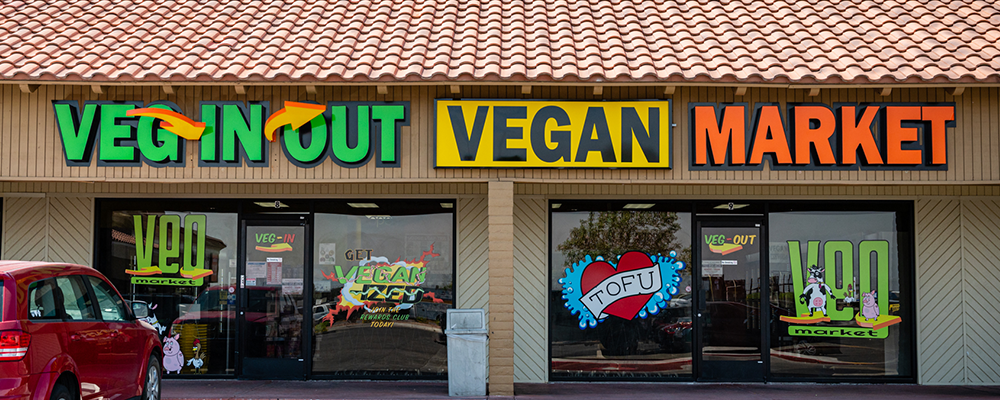 A Look at Veg-In-Out Market: Las Vegas's Exclusive Vegan Market
Location: Las Vegas, NV
Owners: Erik & Kaiti Rogers
veg-in-out.com | IG: @veginoutmarket | TikTok: @veginoutveganmarket


About Veg-In-Out 
Veg-In-Out is Las Vegas's first and only vegan market. With an all vegan grocery selection, shoppers can enter their store with no worries about product label reading. Veg-In-Out Market offers an extensive variety of vegan brands and products and aims to create a sense of community among vegans and veg-curious. 
"We wanted to create a place where we could find a wider array of vegan products and not have to read the labels on any of them—like going into a vegan restaurant and being able to order everything on the menu"
- Erik Rogers
Veg-In-Out Offerings
Veg-In-Out offers so many of our favorite brands, and we are proud to see some VEDGEco favorites at the top of their best-sellers list. On top of protein options, Veg-In-Out also features a large selection of vegan junk food such as candy bars, snacks, and ice cream. Curious about their best-sellers and customer favs? We've compiled a list - customer favorites include: 

• All Vegetarian Inc. Drumsticks
• All Vegetarian Inc. Shrimp
• All Vegetarian Inc. Bacon
• Be-Hive Pepperoni

Other top sellers include: Plant Ranch Carne Asada, Pollo Asado, and Al Pastor, GoMaxGo candy bars, Virgin Cheese, Vegan Dude Chips, Pepperoni, and Damn Good Hamn, BeLeaf products.


Opening Veg-In-Out 
Veg-In-Out Market opened their doors on December 13th of 2019, with only a few months of full operations before being heavily impacted by the beginning of COVID-19. Though their launch was hindered due to the pandemic, Veg-In-Out continues to drive more and more traffic every day. Through various social media marketing tactics, potential customers are able to see that this market is a great place for those who are vegan, vegetarian, or lactose-intolerant, as well as for the vegan-curious and flexitarians who are looking for new and delicious products to try at home.



Marketing Plant-Based
Not only does Veg-In-Out utilize social media marketing, they are also heavily involved with the "Las Vegan" community. Veg-In-Out offers monthly and special occasion pop-ups featuring local and other popular vendors. Through these events, they encourage customers to try out and support local vegan and vegan-friendly businesses. Veg-In-Out promotes affordability and accessibility to shoppers, as customers save money via rewards, discounts, and coupons for shopping at the store, as they sponsor daily promotions to shoppers who have signed up for their "Vegan-ized Club." 

This market exceeds in community engagement by collecting donations for local charities that promote veganism, animal shelters, animal sanctuaries, and other people and programs involved in the vegan community. They also accept food donations for the local Las Vegan Food Pantry.


Veg-In-Out's Advice For Adding Plant-Based Options
With expertise operating as an entirely vegan grocery store, they offered some wonderful advice to those considering integrating plant-based menu items into their offerings. Kaiti told us, "I think you're depriving yourself of a great revenue source without a true vegan option for those who are seeking it and dining with friends who are not vegan." And we couldn't agree more. The freedom of food choice is a VEDGEco belief, and an absolute essential for diners in today's world, as there are growing dietary restrictions on top of veg-curiosity. 

We thank Veg-In-Out for being an integral part of their local community in Las Vegas, as well as being an inspiration and bucket list location for so many of us across the U.S.!