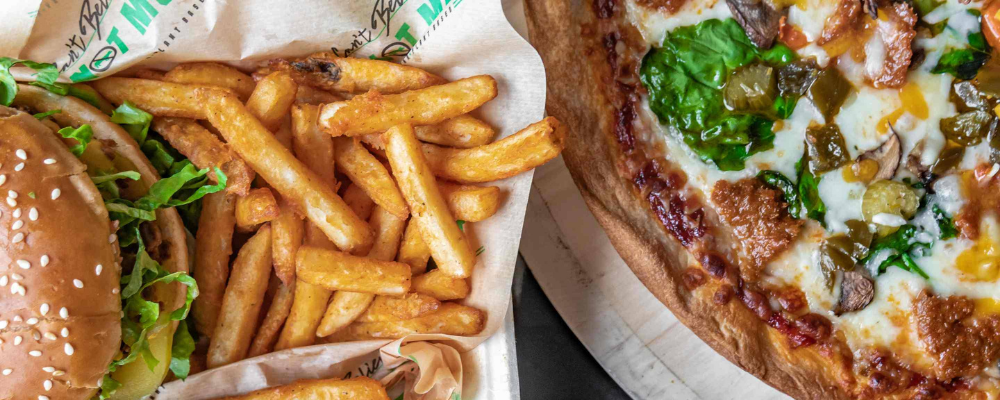 Can't Believe It's Not Meat Opens Third Location in Under Three Years
@cantbelieveitsnotmeatinc | cantbelieveitsnotmeat.com
Locations: Chicago & Orland Park
Owner and Chef: Laricia Chandler, "Chef Fab"



About Can't Believe It's Not Meat
Looking for comfort food that emulates classic dishes? All while being 100% plant-based? Look no further! Can't Believe It's Not Meat was conceived by Laricia Chandler (also known as Chef Fab) three years ago, and has since been converting their customers to plant-based one incredible meal at a time.  Can't Believe It's Not Meat's mission is to shift the culture around being vegan and vegetarian by cultivating healthier and flavorful versions of your favorite comfort food dishes. Their success is obvious with the recent opening of their third location in three years!

If you are based in or traveling to the Chicago area, Can't Believe It's Not Meat would love to extend an invite to stop by their 100% plant-based eateries!
The Menu
Laricia Chandler's popular eatery has recently added new menu items to appeal to both meat and plant-based eaters. The menu includes a tasty, creative twist on the iconic Philly Cheesesteak made with "beef-less" protein, a drizzled "Who Betta" Double Vegan/Dairy Cheese Burger, and vegan smoothies and shakes with flavors like "the Cookie Monster," made with America's favorite cookies, Oreos.
Currently, Can't Believe It's Not Meat's best-sellers include:
Philly Cheesesteak Egg Rolls: Vegan egg roll wrap/ stuffed with vegan philly meat, green peppers, onions, jalapeños, maryland cheese and drizzled in a red sweet heat sauce. 
Big Mik: The Vegan Big Mac. 2 all vegan patties, special sauce, pickles, lettuce, and your choice of vegan cheese paired with signature fries.
Whobetta Burger

: A 1/4 Grilled patty fully loaded with our fresh green mix, tomatoes, pickles, grilled red onion, cheese, and their signature epitome sauce.
Another menu item worth a special shout out is their Bang'n Buffalo Shrimp: six Vegan Shrimp tossed in buffalo sauce, served over a bed of fries and a side of Vegan Ranch. 
The Demand For Plant-Based
The demand for plant-based has only accelerated the success of Can't Believe It's Not Meat. As a matter of fact, the demand has been so strong that the company gained over 65k followers and served over 750k customers in the first two years.
Marketing Plant-Based
Can't Believe It's Not Meat understands the value of a great social media marketing strategy. They're active on Instagram and Facebook the most often, posting frequent photos of their menu offers, daily specials and LTO's, all while highlighting specific menu items with attention grabbing images as pictured above! Not only do they showcase their food, but they incorporate UGC (user generated content) and leverage it to their benefit, as customers enjoying their meals is one of the most powerful tools a restaurant can utilize. 
UGC paired with a strong social media strategy encourages a strong "word of mouth" strategy to drive customers to their store. Being accessible on social media, leveraging UGC, and relying on satisfied customers to spread the word via social media and online testimonials has taken Can't Believe It's Not Meat's marketing strategy to the next level. As a matter of fact, word of mouth was so strong that the restaurant welcomed vegan influencer, Tabitha Brown, who has posted about the eatery multiple times since her first visit!
What's Next?
As Can't Believe It's Not Meat continues to grow in popularity, they maintain their goal of bringing plant-based foods to a larger audience. Already known as a must-stop for tourists and Chicagoans alike, Laricia and team have no plans of slowing their mission! As Can't Believe It's Not Meat works to bring plant-based to a wider audience, we're thrilled to support them every step of the way.
Photos courtesy Can't Believe It's Not Meat