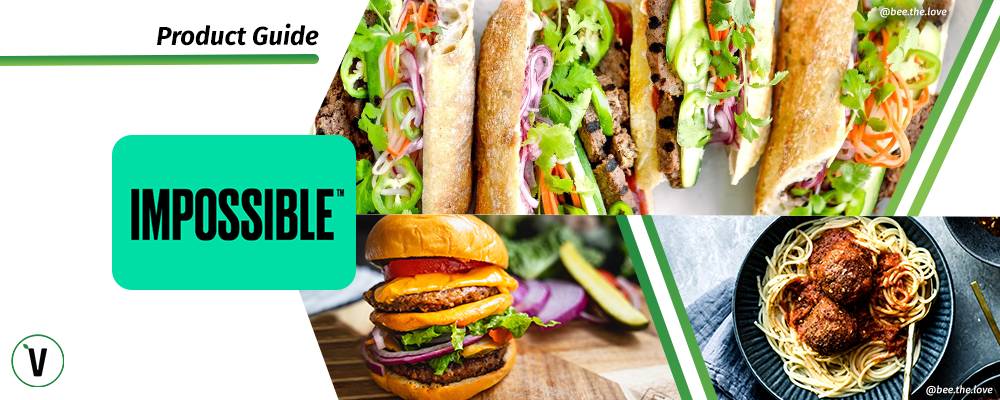 Impossible Foods: Plant-Based Burgers and Meat
impossiblefoods.com | @impossible_foods
Company Location: Redwood City, CA
Impossible Foods is a groundbreaking brand that has brought plant-based to the mainstream via restaurants and grocers. Because of Impossible's mission and efforts, long gone are the days of ordering a side salad as the only vegan option at a restaurant. We're excited to spotlight our friends at Impossible in our VEDGEco brand spotlight series!
Impossible's Origins
Impossible Foods was founded in 2011 by Patrick O. Brown to end the use of animals to make food. From that point moving forward, Impossible spent around 5 years perfecting their first product, the Impossible Burger, ensuring it tasted, sizzled, and even bled like its meat counterpart. From 2016 to present day, Impossible™ has seen mass commercial success as their product is available in restaurants and grocers worldwide. With the launch of their Impossible Sausage and upcoming Impossible Chicken launch, Impossible is showing no signs of slowing their mission. 
The (Not So) Impossible Mission
With the vision of a more plant-based future, Impossible's mission is to restore biodiversity and reduce the impact of climate change by transforming the global food system through making delicious, nutritious, affordable and sustainable meat, fish and dairy from plants. 
Impossible™ Burger & Meat 
Impossible Burger is made from plants, for people who love meat, and cooks like ground beef. Impossible Burger is available in both patty and ground form, for those looking to barbecue or create a plant-based ground beef-based dish. 
Marketing Impossible™
The Impossible Brand has notoriety that consumers look for, and Impossible makes it easy to market. On their website, Impossible offers a variety of wrappers, stickers, flags, and more that can be easily paired with Impossible products, no matter how they're served.
On The Menu
Impossible products are delicious meat made from plants for people who love meat. Here are Impossible's best practices to position and promote these products on your menu so your customers know what it is and why they should order it.
Put the word Impossible™ in the name of your dish. More and more people recognize the Impossible brand and will be more drawn to an "Impossible™ Menu Item" than a "plant-based" one.
Offer a specific Impossible build on the menu for greatest success. It's best to start with your best-selling beef or sausage item.
In addition to an Impossible build, offer Impossible™ meat as a tasty option in any dish. Letting customers sub Impossible products for ground beef or sausage can help more people experience and enjoy more of your menu.
Marketing materials include flags, burger wrappers, table tents, and stickers. 
Impossible™ Dishes & VEDGEco Recipes
Looking to explore Impossible to add to your menu? Here's a shortlist of popular dishes we've seen integrated onto menus. 
Impossible Burger: The classic burger. Dress it up or keep it simple - it's delicious every possible way.
Impossible Meatballs: Meatball subs and spaghetti and meatballs are two saucy favorites.
Impossible Nachos & Tacos: Impossible Meat makes the ultimate protein option for any mexican-inspired dish, including nachos, tacos, burritos, and more!
Cook up these unique Impossible recipes from VEDGEco:
The Impossible™ Effect
Impossible Foods has become a game changer in how consumers think about and consume meat products. The effect Impossible has had on the food industry is undeniable, as more consumers are turning toward plant-based options with the understanding of the environmental impacts of meat.
With the recent UN Report reflecting human impact in regards to climate change, Impossible continues to move forward with their mission by bringing their environmental impacts and benefits to the forefront of their messaging. They've made it simple to understand individual positive impacts through food choice and consumption with their new Ecological Footprint Calculator.  


Impossible plant-based products provide for uncompromisingly delicious dishes with all the sensory experiences desired: incredible taste, perfect texture, extra juiciness, and mouth-watering grilled aroma, with the added health, environmental, and animal welfare benefits. It's no wonder Impossible products are a restaurant favorite.