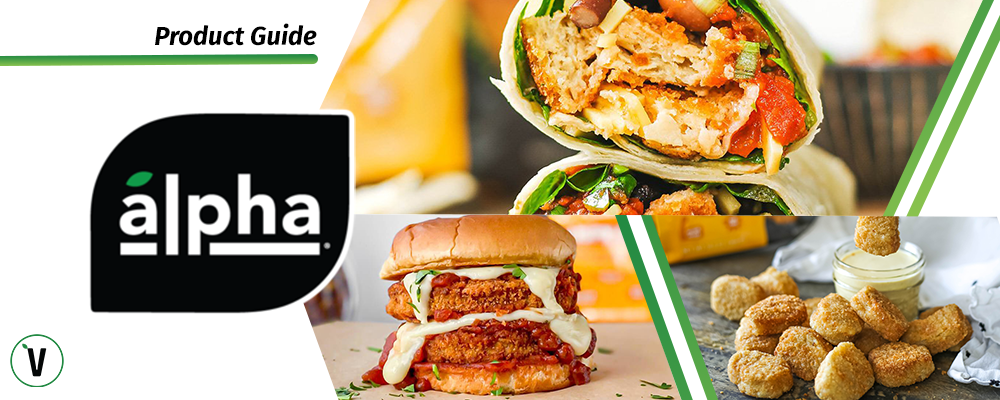 Alpha Foods: Chik'n Nuggets and Chik'n Patties
eatalphafoods.com | @alphafoods
Company Location: Glendale, CA
Looking for plant-based chicken nuggets or patties that "wow" with their incredible taste and texture? Alpha Foods has you covered. Two of their best-selling restaurant industry products, Original Chik'n Nuggets and Crispy Chik'n Burger Patties, are available at restaurants nationwide, and customers are raving.
About Alpha
Founded in 2015 by co-founders Loren Wallis and Cole Orobetz, Alpha Foods is on a mission to make healthy, plant-based food that is crave-worthy and convenient. The company's diverse range of vegan meal options were created to fit into any lifestyle and diet -- from vegan to flexitarian to omnivore. Clearly, their strategy is working. In just five years, Alpha Foods has seen tremendous growth and in 2020, they closed a $28 million round of funding.
Alpha's Products
Meatless Made Easy. Alpha's products are exactly what a meat eater would eat if a meat eater didn't eat meat. Their lineup includes plant-based chik'n patties, nuggets, and flavor packed meals for grocers and other retailers. Here at VEDGEco, we carry both patties and nuggets for foodservice operators. Without further ado, allow us to introduce these plant-powered products:
Alpha Chik'n Nuggets
Alpha's Original Chik'n Nuggets are tender meatless chik'n breaded in a delicious crispy batter and that can be served with a variety of dips from vegan ranch to BBQ, making them a favorite amongst independent restaurant owners. Protein-packed, Alpha Nuggets also make delicious treat that make for an easy on-the-go snack, a quick fix for a game day spread, or a kid-approved dinner option – without any sacrifice on taste or texture.
Alpha Crispy Chik'n Burger Patties
The Crispy Chik'n Burger Patties are breaded patties that work as a 1:1 alternative to a traditional fried chicken patty, but are absolutely unrivaled in taste! These plant-based powerhouses can be prepared with all kinds of toppings and sauces, and are packed with 13g of protein and are non-GMO!
Marketing Alpha Foods
Marketing plant-based has never been easier. Alpha makes it even easier to market their products. If you're looking for access to exclusive marketing materials including wrappers and stickers, simply sign up on Alpha's site.
Looking for other innovative ways to market Alpha? Here's what some restaurants are currently doing:
LTO's: Limited time offers are a great way to increase foot traffic any given week. Offering a special or secret menu item is a great incentive, especially for vegan and veg-curious customers waiting for new plant-based options.
Social Media Marketing: Never underestimate the power of social media! Social media has the power to generate buzz and drive an immense amount of foot traffic through posting and sharing!
Menu promotion: Integrating Alpha onto your menu? Check out our tips on adding plant-based items to your menu to make them as customer friendly as possible!
Alpha Foods Dishes
Alpha Chik'n Nuggets
Easily served alone, these nuggets are the perfect appetizer or entree for any kids menu. Looking to spice up the basics? These nuggets can also be prepared in a variety of ways in a variety of dishes. Check out some of Alpha's favorites, including chik'n and waffles and a katsu seaweed wrap!
Crispy Chik'n Burger Patties
Alpha Patties can be served simply as a sandwich, or utlized in a many timeless favorites. They work well in wraps, are a great protein-packed addition to any salad, and are the star of the show in any pasta dish!
Looking for additional menu inspo? Check out Alpha's recipe section here!
Alpha's Impact
Alpha is showing no signs of slowing with their commercial success on a variety of menus! Just take a look at the success these restaurants have had by adding Alpha to their menu: