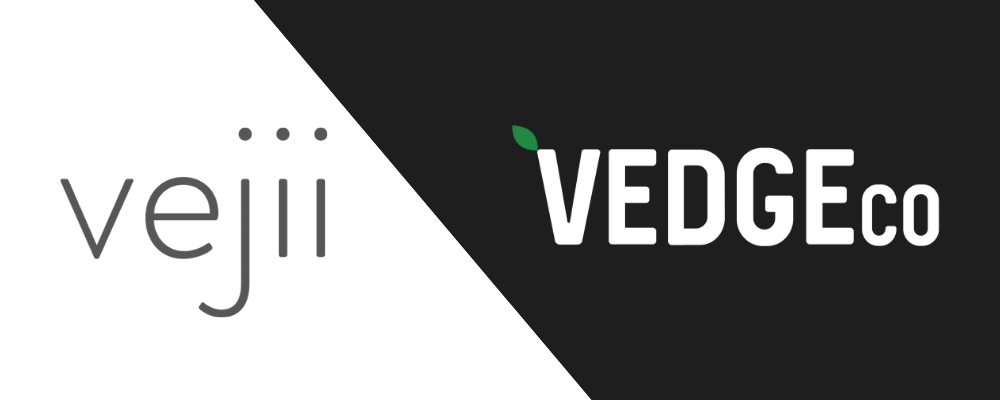 VEDGEco Becomes Part of Vejii Holdings Ltd to Accelerate the Plant-Based Movement
We are proud to share that as of Friday, December 31st 2021, VEDGEco has officially joined the Vejii Holdings team to continue to push the plant-based movement forward.
Vejii
is a North American online marketplace for plant-based and sustainable products, and shares our mission of making plant-based more accessible to all by becoming the leading online marketplace for plant-based products.
Joining the Vejii family
was an easy decision as VEDGEco can serve as the B2B (business-to-business) arm, expanding foodservice and wholesale distribution of plant-based brands to restaurants and operators across North America. With this acquisition,
VEDGEco is now part of a publicly-traded company
on the Canadian Securities Exchange (CSE) under VEJI.
VEDGEco has scaled tremendously since our nationwide launch in August 2020 in both revenue and infrastructure, and driven by a passionate plant-loving team, we caught the attention of Vejii with the
opportunity for growth
.
In 2019, our CEO Trevor Hitch first started VEDGEco to serve his local community in his hometown on the island of Oahu: "I built VEDGEco out of a necessity, given the limited plant-based options available in the small and local grocers and restaurants where I live in Kailua, Hawaii." Expanding distribution to the Hawaiian Islands proved successful, and the requests for distribution on the mainland of the U.S. continued to pour in. With the recognition that most are likely to have their first experience trying new plant-based products at a restaurant before then purchasing those items to enjoy at home, the need was apparent to make plant-based options more broadly available to thousands of local restaurants across America.
After receiving many requests on the mainland, Trevor decided to launch VEDGEco nationwide in August 2020 with the vision of providing the freedom of food choice and making U.S. menus an equal 50% vegan. The VEDGEco team quickly expanded and began selling uncompromisingly delicious vegan options in bulk to consumers and businesses alike. As restaurants began reopening in early 2021 after many months of closing down in the pandemic, VEDGEco pivoted operations so that we could better serve our core customers–independent restaurants and grocers who are often neglected by larger distributors and who could benefit from access to wholesale cases of plant-based food.
Now with increased access to capital, like-minded leadership, and logistics/warehousing synergies, VEDGEco will be able to continue driving the plant-based movement.The Vejii Holdings Ltd family also includes Vegan Essentials, a staple of the plant-based community which contributes more than 20 years of consumer insight, data, and buying power (and voted best online vegan grocer from 2018-2021 by VegNews Magazine!).
We're excited for what our new combined future can bring! We believe that 2022 will become the greatest year for plant-based accessibility and expanding vegan dishes across North America.
Read our Purchase Agreement on Yahoo! Finance and Cision PR NewswireAdditional Press
Vejii acquires VEDGEco strengthening B2B capabilities in plant-based food distribution
- Food Navigator USA, January 3, 2021
Vejii to Acquire Leading B2B Plant-Based Wholesale Platform VEDGEco
 - Vegeconomist, January 3, 2021
To learn more and ask any questions, feel free to reach out to us at plus@vedgeco.com