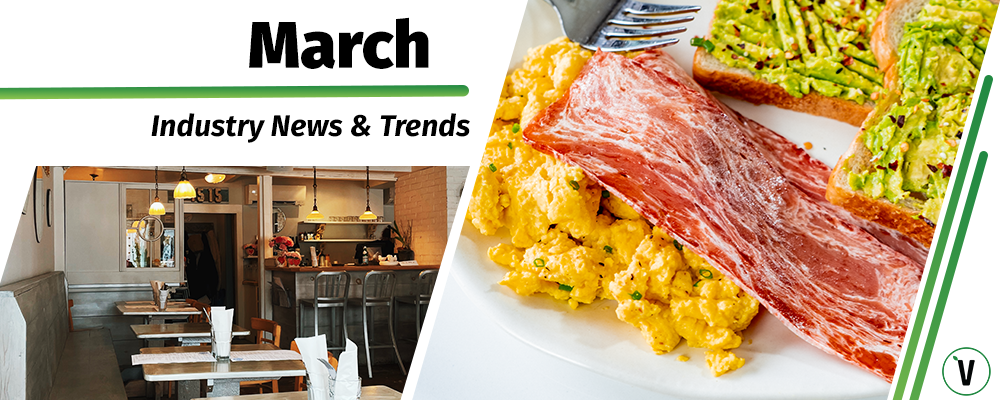 March 2022: News & Trends for a Plant-Based Spring
Grow with the plant-based movement this season! 🌱
New Restaurant Consumer Report: "What's Changed Since 2020?"
Revenue Management Solutions released their newest report: "Consumer Perspectives on Sustainability and Plant-Based Foods. What's Changed Since 2020?". The survey reveals Gen Z is more aware of restaurants' effect on the environment, as well as this stand-out finding: 1 in 2 Gen Z-ers enjoy the taste and will seek out plant-based meats, even switching to a competitor restaurant brand. Read more here. 
See You at Natural Products Expo West
MARCH 10-12
We look forward to connecting with other members of the plant-based community in Anaheim, CA at Expo West next week! Be sure to stop by Booth 1693 to visit with the VEDGEco team in-person, and send your friends and colleagues our way to say hello! Follow @vedge.co and #ExpoWest for updates on plant-based trends at the event.
Bring on the Green for St. Patrick's Day
MARCH 17
Did you know, green is our favorite color? Go strong with a green theme on St. Patrick's Day by rockin' a green menu—green pancakes and all! Now's the perfect time to get crafty preparing an adventurous menu for adults and kids alike that only the trickiest of leprechauns could even envision. Shop vegan, and get creative!
Ready Your Plant-Forward Breakfast Menus for the First Day of Spring
MARCH 20
As the sun rises earlier and the grass grows greener, people are ready to head out to celebrate the coming of Spring! Brunch is about to be a hit. Shop JUST Egg for a 1:1 replacement for traditional eggs (that scramble to perfection!) and Smoky Tempeh Strips by Lightlife for a delicious alternative to traditional bacon. Shop Vegan Breakfast.
Share Your Story with the Independent Restaurant Coalition
The Independent Restaurant Coalition is a voice for the restaurant and bar community nationwide. If you are a business, consider sharing your story—why you are in this business, your challenges or successes, what inspires you, and more—so IRC can continue to tell the story of the industry as they advocate to Congress about refilling the Restaurant Revitalization Fund. Share your story here.
Click here to take action and ask Congress to refill the Restaurant Revitalization Fund.
And we couldn't forget, Happy National Frozen Foods Day on March 6! It is our honor to deliver uncompromisingly delicious, frozen plant-based foods straight to your door.