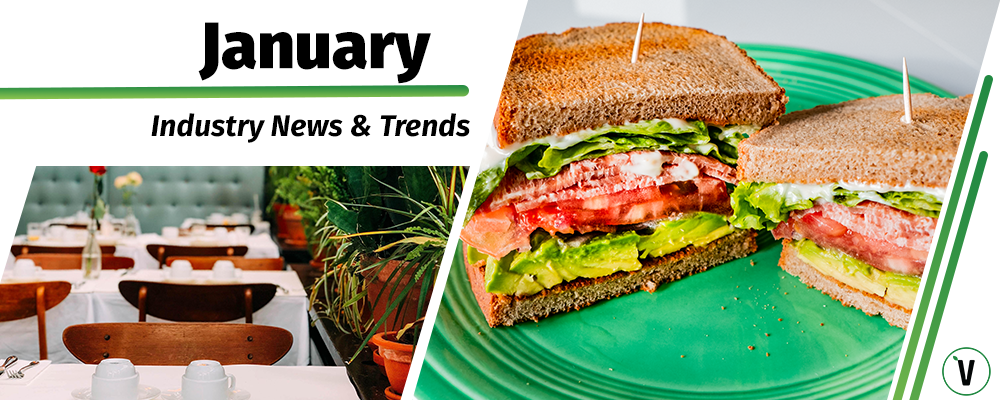 January 2022: Plant-Based News & Trends for the New Year
2022 is going to be an amazing year for vegan dining. We are excited to share our big news with you, as well as hot trends to jump on this new year. Learn more about product and dish recommendations, free marketing opportunities this month, and how to support fellow independent restaurants.
VEDGEco Becomes Part of Vejii Holdings Ltd to Accelerate Plant-Based Movement
Vegan options are set to expand in North America in 2022! VEDGEco will serve as the B2B (business-to-business) arm of Vejii, expanding foodservice and wholesale distribution for plant-based brands across North America. 
Learn more about this exciting venture and the future of possibilities for vegan food service, retail, and e-commerce on our blog. Read our announcement here.
Veganuary begins now!
JANUARY
Now is the time to add and promote the vegan options on your menu. Access free marketing tools such as ready-made front-of-house materials and social media graphics, and reach a new customer base with Veganuary. Learn more here.
Tag recommendations: #Veganuary2022 @weareveganuary #VeganFoodie and hashtags for your local vegan area, ie: #ChicagoVegan
"What's Hot in 2022" Report by the National Restaurant Association
2022
The National Restaurant Association released their 2022 Culinary Forecast which reveals a strong focus and growth in the plant-based market. Plant-based sandwiches, breakfast sandwiches, and burgers all rank as hot trends. Overall, plant-based options rank in the Top 3 for all meals (breakfast, lunch, and dinner)! Get the report here.
We are a proud member of the National Restaurant Association!
Veggie Awards 2022
VOTING NOW
Every year, top vegan publisher VegNews hosts the Veggie Awards for voters to select the best of vegan, including top plant-based products. Take a peek at the top trending cheeses, burgers, ice cream, and more by participating in the vote!
Also support fellow vegan establishments in the votes for Best Vegan Casual Restaurant, Best Vegan Bakery, and more. Vote here. We are a proud member of the National Restaurant Association! Vote here.
Photo by @piepiemydarling
National Cheese Lover's Day
JANUARY 20
This is the day to shout your vegan cheese dishes loud and proud! Consider a special cheesy LTO with NoDoh Brand Mozzarella-Style Sticks, Vegan Cheese Shreds, or Miyoko's Creamery Vegan Liquid Pizza Mozzarella. Wow your customers with a robust taste and perfect ooey-gooey texture. Shop All Vegan Cheese.

Tag recommendations: #VeganCheese #NationalCheeseLoversDay #CheeseLover
Photo by @msvegan
#ReplenishRRF
Covid's effect on the restaurant industry continues to take its toll. The Independent Restaurant Coalition continues to lead the way in asking Congress to Replenish the Restaurant Revitalization Fund. Learn more here.