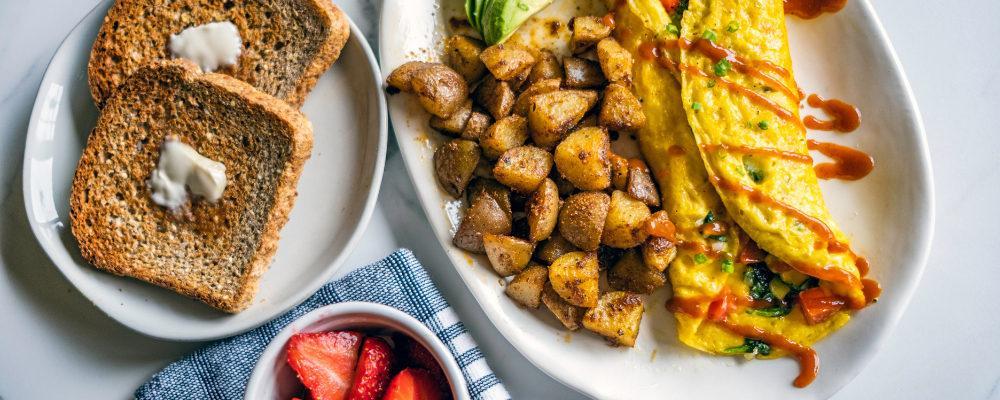 5 Impressive Stats to Answer The Question "Why Plant-Based?"
Over one-half of Americans believe the future is plant-based. (The Harris Poll 2021) Adding vegan dishes to restaurant menus is crucial now more than ever as demand is rising and continuing to accelerate. More than just for those who have adopted a vegan lifestyle, vegan dishes serve a breadth of customers including those who are plant-curious, flexitarian, Meatless Monday-ers, and lactose-intolerant. Understanding consumer interest and behavior is key when crafting your menu and enhancing customer value. These eye-opening stats are sure to support your decision in adding plant-based options to your restaurant menu.
1) 2 in 5 households would switch to another restaurant if it offered plant-based meats
source: Revenue Management Solutions, Restaurant Consumer Report 2020 Q3 Update: Plant-Based Meat Alternatives

"Veto Power" is real and influences your restaurant attendance before you can even notice it. Win back customers who may have switched to other restaurant brands in order to best accommodate many different dietary and allergen restrictions within their party. It takes just one person within a family, groups of friends, or colleague outing to veto attending a restaurant that does not serve plant-based options. (Offering a plant-based eater a side salad as a main course also doesn't count!)
left photo: @orchardgrocer

2) Consumers purchasing plant-based foods spend 61% more than the average shopper
source: National Household Data 2018

Consumers who are fueled to make plant-based food choices are willing to spend extra to enjoy the products and dishes they love, adding a boost to your bottom line. According to a new report by Bloomberg Intelligence, the plant-based foods market could value over $162 billion by 2030 (up from $29.4 billion in 2020), to make up to 7.7% of the global protein market.Will you be growing with plant-based?



3) 36% of consumers identify themselves as flexitarian
source: Packaged Facts 2020
The consumer group you need to keep an eye on: flexitarians. Flexitarians are individuals who may mainly focus on eating plant-based while also being flexible to incorporate traditional meat and dairy into their food choices. As awareness grows regarding the positive impact plant-based eating has on the environment, animal welfare, and health benefits, this consumer base grows. Consumers are looking for more delicious opportunities to align their food choices with their beliefs and health concerns. A poll conducted in June 2020 by Mattson showed that 48% of Americans choose plant-based because they think it's better for the environment—up from 31% in 2018. The same poll showed 65% choose plant-based due to general health benefits.

Overall, 51% of Americans have tried or would like to try a flexitarian diet (The Harris Poll), and that number is only anticipated to grow.

left photo: @bee.the.love, middle photo: @champsdiner

4) 83% of plant-based food eaters plan to maintain or increase consumption in the next year
source: The Harris Poll 2021

Delicious vegan products and recipes are the game-changer in the increase in demand. Plant-based food sales grew 2.5x faster than total food sales from 2018-2020 (Good Food Institute, U.S. retail market data for the industry) and there was a 463% increase in plant-based meat orders on GrubHub in 2020. Consumers are willing to increase consumption thanks to chefs and food developers who make it an easy, sustainable, and—most excitedly—a delicious choice to make. Ride the wave with those 83% next year—they are your neighbors and community members who look to you to support them in their food adventures!


5) 88% would try plant-based in a social setting*
source: The Harris Poll 2021

Eating plant-based isn't just a fad, it's a trend that's here to stay. With focus on our climate, seeking environmental and social justice, and increasing awareness of the humane treatment of animals and factory workers, taking action with food choice will continue for generations to come. 41% of millennials enjoy trying new plant-based foods and beverages at restaurants (Technomic, 2020 Generational Consumer Trend Report), and as these consumers continue to explore, demand will continue to increase.

And not only is it about the power of food choice, it's the fun of it too! The adventure that comes with choosing a juicy meat-free burger that wows, or the full taste and texture of seafood in a fish-free fillet made from legumes, to getting the visual and beautiful stretch from that vegan grilled cheese-pull, choosing plant-based is like exploring a new whole world that is magnificent and simple all at the same time. And the best of this plant-based adventure? Sharing it with others.

*Social setting: includes dinner party, work event, at a fast-food, sit-down or gourmet restaurant, tailgate or first date.



VEDGEco is here to help your restaurant go vegan 
Together, let's expand your customer base and boost your bottom line. We are here to supply you with the top plant-based meat, dairy, and egg products that make adding vegan dishes to your menu a breeze. And more than that, we're here as a resource for your plant-based adventure. Take a look at our Product Guides, Vegan Recipes, Industry News and Trends, and Restaurant Spotlights to learn more about businesses who are making a plant-powered impact.

New to VEDGEco? Contact plus@vedgeco.com to get your first order free with VEDGEco**. A VEDGEco team member will connect with you for one-on-one lifetime support!

**Up to $250 value. Offer eligible for new, registered VEDGEco Plus+ (Restaurant, Foodservice, and Grocery) accounts only. Limit one use per customer. Offer subject to change or cancellation at any time. Contact plus@vedgeco.com for details and to redeem.